Supporting community development, regeneration and an enterprising culture
Community Soup events are a simple concept: people turn up, pay a small fee e.g. £5 at the door, and listen to three or four people pitch an idea to improve the local community.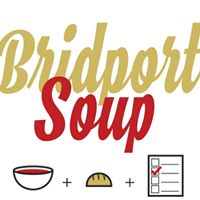 Pitchers may not talk for more than four minutes, and definitely must not use PowerPoint. Each pitch is then followed by four or five questions from the audience, and then the crowd votes. The winning project receives the takings from the door and pledges to share how they've used their funding at the next Soup.
​The first Bridport Soup was won by Community Youth Project (CYP). They walked away with £650 to boost their campaign to raise awareness of the Trick Factory's need to relocate and their search for a new site. Joe Hewetsen from CYP said: "The real victory was creating a feeling of optimism and it is what we do with this momentum now that will be important as one event won't bring back the Trick Factory."